---
The Family of Anglican Churches
Serving the Communities of Nelson, Balfour and Kaslo
Diocese of Kootenay, British Columbia

The Rev. Jeff Donnelly - Parish Pastor
The Rev. Marcella Mugford The Rev. Suzanne Basek The Rev. Ann Wood The Rev. Mark Mealing
Please visit the
Calendar of Events
page to find out what's happening in our parish community
---
St. Saviour's Anglican Church

Nelson, BC
Our purpose is "To seek Truth, nurture the Sacred and bless with Love."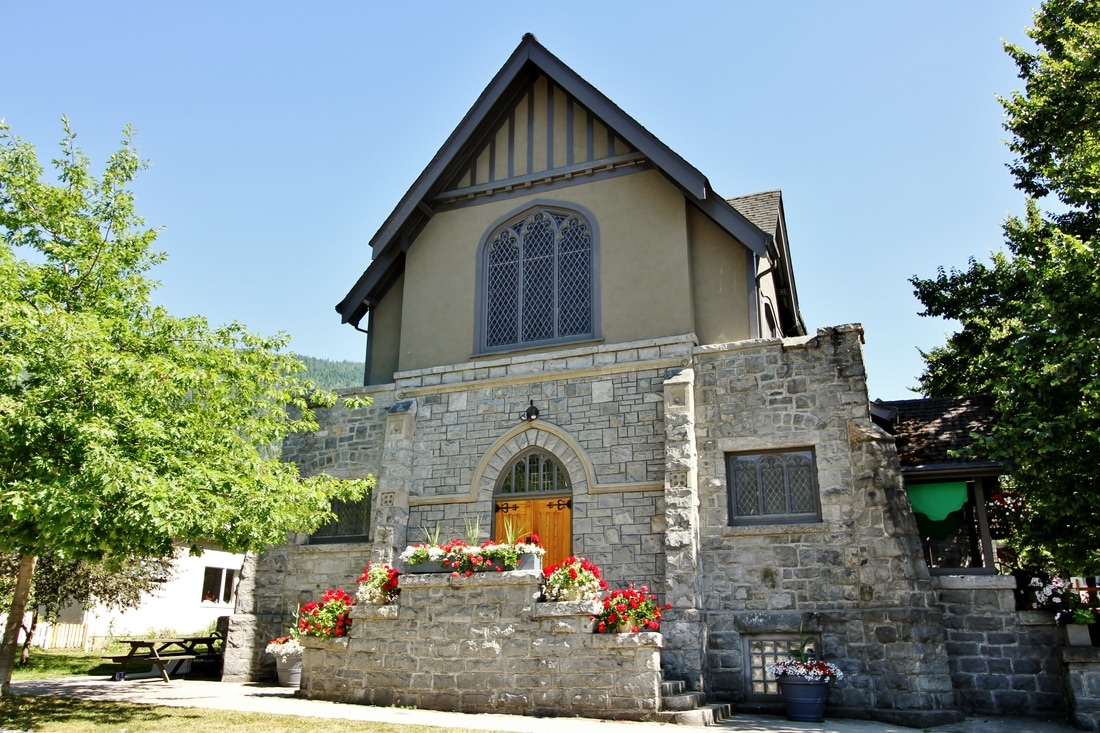 Greening our Church - Reducing our Carbon Footprint
​
In 2017, St. Saviour's and three other Nelson-area spiritual communities committed to going 100% renewable energy by 2050.
CBC's national news program,
The World This Weekend
, features a story by reporter Bob Keating. Listen to the audio program by clicking
here
or click on the image of the church above.
---
Jewel of the Kootenays
​St. Saviour's Pro-Cathedral is an excellent example of a Gothic Perpendicular church in stone, and thus reminiscent of many English churches. Visitors are amazed by the jewel-like stained glass windows that depict stories from the Bible and, by their dedications, provide a connection to the history of families that helped build Nelson. The history of the stained glass windows are told in a beautiful coloured booklet entitled
Cathedral Whispers – the Stained Glass Windows of St. Saviour's Pro-Cathedral
published in June 2012, and are available at the entrance for a donation of $5.00. You may browse the booklet below:
---
St. Saviour's congregation began in 1890 when Nelson was a raw mining town.

In the early days St. Saviour's was likely a haven for homesick English men and women far from their homes. The words and music of the traditional Church of England services, no doubt, brought great comfort.

A Mission Room was erected in 1892 and the stone church was opened in 1899. The church burned to its granite walls in 1928 and was rebuilt in 1929. The stained glass windows that grace the church were donated after the fire. St. Saviour's is still one of Nelson's best loved

heritage buildings

.

Over the years, St. Saviour's has changed steadily. As part of the

Diocese of Kootenay

, we were innovators in changing to a service in contemporary English and using a variety of worship music. Today you will find a warm welcome in a caring congregation that worships Sundays at 10:30 am and includes a children's program. On special occasions we celebrate with

"Messy Church"

for the whole family, a Christmas pageant, and the blessing of pets for St. Francis Day. ​

---

St. Michael and All Angels'
Anglican Church
Balfour, BC


The first church service in Balfour was conducted by Bishop Sillitoe, the first Bishop of Kootenay, in the summer of 1891. Another early service was conducted on May 12, 1892 in a storeroom belonging to Charles W. Busk, a pioneer in the area, who contributed generously to the church, the Boy Scouts, and the community. St. Michael's church was built during 1892 built on land donated by Mr. Busk. The first service was held in the church on St, Stephen's Day (December 26th) 1892.

St. Michael and All Angels' is an active, caring congregation serving the Balfour, Queens Bay, Harrop-Procter, Long Beach, and Crawford Bay communities. We have a lovely, well maintained, heritage church built in 1892, making it one of the oldest church buildings in the diocese.

We have a very active women's guild and always a good turn-out of men and women for a variety of worship, study, maintenance and social activities. Monthly after service coffee hours or pot lucks are held year around.

Services are held every Sunday morning at 11:30 and the peal of St. Michael's bell is an expected and welcome sound for the entire community.

St. Michael and All Angels' shares its building with the local Christian Science congregation.

---

St. Saviour's is a church for the new millennium, strongly rooted in the Anglican tradition and reaching out to bring the love of Jesus Christ to the Nelson community and the world. All are welcome to find community and spiritual nourishment here.

We explore our faith and spirituality through a

contemplative group

and a

book study group

among other programs. We are also actively involved in the inter-faith community.

---

St. Mark's
Anglican Church
Kaslo, BC

St. Marks Anglican Church is located in the historic village of Kaslo, on the shores of Kootenay Lake, and dates back to 1895,

and shares a great history with the silver mining boom of the district.

The church building has been renovated a number of times over the years. The Miller Room was constructed in the 1980's, which gave St. Mark's a church hall, and the cement foundation was upgraded, during the early 1990's. Recently we put a new cedar shake roof on, and had the entire outside of the church repainted.

Our congregation meets every Sunday at 9:00 AM for worship. Music plays a central part in our worship services and we offer Sunday School for children. We all join together as one church family around the altar for the celebration of the Eucharist.

St. Mark's is also renowned for its special services, including a blessing of the animals on St. Francis of Assisi Day, our Christmas and Epiphany services with a unique children's pageant, and a full Easter week schedule including a foot-washing service and a Saturday Evening Vigil.

St. Mark's presents a number of special activities each Christian year. We have our St. Nicholas Party for the congregation on December 6th each year. We also enjoy the Annual Shrove Tuesday Pancake Supper, which is open to all. This past year St Marks added a St. Patrick's Day potluck supper, which included music and Irish entertainment.

Every year we sponsor an ecumenical Bible or Christian book study, most recently a video and discussion study of the Book of Revelation. The study sessions are very well attended, and everyone is welcome to participate.

A few years ago, a labyrinth was constructed on the outside grounds behind the hall using the cobbles that are so common in our lake shore community. All are welcome to seek peace and clarity by walking the labyrinth.

---